Topic ID #24102 - posted 10/21/2012 2:10 PM
NEWBIE QUESTION: ARTIFACT OR ARTIFICTION???? DELAWARE BEACH FIND (ROCK ART FACE)
Beach_Brat
Hi forum,
Although I was born and raised at the beach; it wasn't until about a year ago that I started exploring the shoreline and noticed all the things it has to offer. (It doesn't hurt that it reminds of my g'ma )
I went to a different beach the other day with my daughter and she found a rock with a carved face, I didn' see it....at first. After I realized it was indeed a face I began to pay closer attention to my surroundings. ( I may upload the pic later of this stone)
In doing so, yesterday I came across another FACE stone w/ a huge nose!?
Checkout the photo-bucket pics... direct slideshow link below.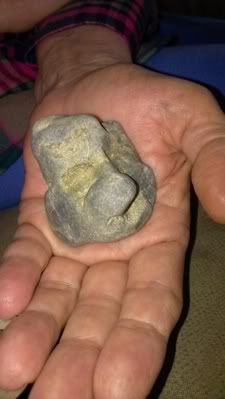 It was just turning low tide and it was laying sideways staring at me...a little creepy,,,but true. (LOL) Ironically, I know how my daughter felt when I couldn't see it because still today my mom sees just "a rock" So can u prove me wrong and help settle this dispute. I'm thinking
Nanticoke Lenni-Lenape
artifact what do you think?
http://s1184.photobucket.com/profile/Tracyylyn67
Thanks,
Tracy
Post ID#19819 - replied 10/22/2012 6:20 AM
scottyj432
It is natural.
Post ID#19821 - replied 10/22/2012 9:50 AM
Beach_Brat
Well....disappointing. Thanks for your time.

Tracy
Post ID#19824 - replied 10/22/2012 4:37 PM
bailey
Although it is naturally formed, it is still an interesting looking rock nonetheless :)
Post ID#19827 - replied 10/22/2012 5:52 PM
Beach_Brat
I thought it resembled the old red man. you can see a pic here.
http://www.iceageartifacts.com/medicine_man.htm#120.__Old_Red_Man_
We have a lot of rich history and heritage here. I found bags of pottery shards, maybe early dutch and then a few Indian arrowheads, hand tool and fossils. I saved most of my rocks so I want to go through them again and see what I missed. I have to tell you its a little freaky when u realize it could be petrified POOP or animal parts.....UGH! :)
Anyway maybe I will upload a few more pics and get the forum opinion.
Thanks for your comments.