ARCHAEOLOGY TECHNICIAN AT JOSHUA TREE NATIONAL PARK
Job Code:2022-RAP-100
Location:Twentynine Palms
State:California
Program:Research Associate
Program Contract Length:12 Months

Job Description:
Working cooperatively with the National Park Service's Joshua Tree National Park (JOTR), the Great Basin Institute is recruiting one Archaeological Technician to support cultural resource inventories. The principal objective of this position is to document or monitor cultural resources in accordance with the park's compliance needs and conservation efforts.

Primary Responsibilities:
• Support archaeological field surveys, site recording, mapping, excavations, site condition assessments, monitoring, writing sections of draft reports;
• Complete database entry and file management;
• Assist with preparation of National Register Nominations and Determinations of Eligibility; and
• Perform other routine tasks associated with resource division functions.
• Drafting synthesis report for park management projects

Some ecological restoration tasks may be included, such as planting native plants or vertical mulching for trees. Completing archaeological surveys in the desert southwest requires the physical endurance to walk over a variety of terrains and in a variety of weather conditions, including extreme heat, and carry a heavy pack. Overnight camping for several days at a time in remote areas may be required.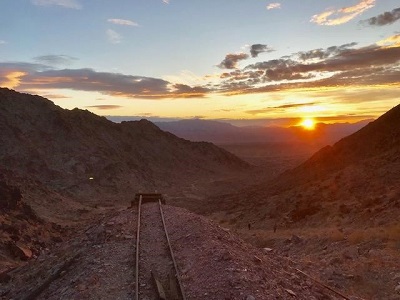 Contract Timeline:
• 52-week appointment beginning October 3, 2022, or upon completion of a Department of Interior background investigation.
• Full time (40 hours/week); some overtime and weekend work may occasionally be required.

Location:
Joshua Tree National Park encompasses nearly 800,000 acres in southern California, a 1-hour drive from Palm Springs, 2- to 3-hour drive from Los Angeles and Las Vegas. Joshua Tree National Park is of special management concern, lying in the transition of the Mojave Desert and the Colorado Desert. Aside from the outdoor recreation opportunities and natural wonders within the park, Death Valley, the Mojave Preserve, as well as Lake Mead and Spring Mountains National Recreation Areas are nearby and afford a diversity of outdoor activities ranging from hiking, mountain biking and rock hounding to fishing, boating and skiing/snowboarding.

Field conditions at Joshua Tree include hot, arid days with high exposure to the sun, as well as cold, winter weather. Resources of the region include threatened and/or endangered species habitat, big game habitats, abandoned mine lands, and historic and prehistoric cultural sites.

Compensation and Benefits:
• Wage: Up to $20/hour
• Medical, dental, and vision insurance available at no cost
• Paid leave and holidays
• Field per diem for any required overnight camping

Job Qualifications:
• Bachelor's degree in anthropology, archaeology, indigenous peoples studies, or closely related field. Applicants with advanced degrees are encouraged to apply;
• Six months of previous, relevant field experience; OR archaeology field methods coursework AND an accredited Archaeological Field School;
• Knowledge of historic and/or prehistoric artifacts preferably of the Mojave and Colorado Desert regions of the southwest;
• Ability to understand, implement and adhere to established data collection, inventory, recording, and monitoring protocols;
• Capacity to collect and maintain field data in an organized manner that is easily understood and accessible to other resources staff (GBI or NPS);
• Experience completing archaeological site forms (or portions of site forms) and/or entering site form data in to database programs;
• Ability to utilize ArcGIS software to build maps, organize and manage data, and manipulate data layers;
• Experience operating hand-held GPS equipment for navigation and electronic field data collection; experience post-processing field data, a plus;
• Ability to read and interpret topographical maps and navigate using a compass;
• Possess a clean, valid, state-issued driver's license with ability to safely operate and maintain a 4WD vehicle on and off paved roads;
• Ability to work productively and cooperatively as part of a team focused on accomplishing mutual goals and communicate effectively, both written and orally, with a diverse audience;
• Possess good organizational skills and be detail oriented; and
• Ability to work in harsh and rapidly changing environments, camp in the backcountry for consecutive days, work in all types of weather conditions, traverse uneven terrain, carry a heavy pack in excess of 40lbs, and be in overall good physical condition. Prior experience working in the desert southwest, or similar desert climates, desirable.

Successful applicant must complete a Department of Interior (DOI) Background Investigation (BI) or submit paperwork to NPS human resources indicating an active and fully adjudicated BI has already been completed prior to beginning position. If you already have a fully adjudicated BI, please let us know in your application.


Other Job Information (if applicable):

EEO Statement
We conform to all the laws, statutes, and regulations concerning equal employment opportunities and affirmative action. We strongly encourage women, minorities, individuals with disabilities and veterans to apply to all of our job openings. We are an equal opportunity employer and all qualified applicants will receive consideration for employment without regard to race, color, religion, gender, sexual orientation, gender identity, or national origin, age, disability status, Genetic Information & Testing, Family & Medical Leave, protected veteran status, or any other characteristic protected by law. We prohibit Retaliation against individuals who bring forth any complaint, orally or in writing, to the employer or the government, or against any individuals who assist or participate in the investigation of any complaint or otherwise oppose discrimination.
To apply, visit https://www.vscyberhosting.com/greatbasin/Careers.aspx?req=2022-RAP-100&type=JOBDESCR